The Hydroponics Blog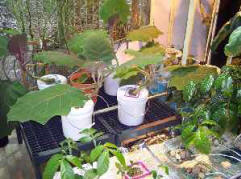 The Hydroponics Blog helps keep you up-to-date and focused on your fascinating new gardening hobby. It...
Lets you know whenever any new Web pages appear on Hydroponics-Simplified, telling you about a new technique, tip or hydroponics product.
Keeps you informed with interesting postings or Hydroponics in the news.
Lends a helping hand with common troubleshooting tips and FAQs.
Shares stories and pics submitted by other site visitors so you can learn from their mistakes and triumphs.
Lets you know when I send out The Urban Farmer E-Zine (in case you don't like to give out your email address or if you have an overactive spam filter that traps your issue.)
---
To subscribe to my Hydroponics Blog (no email necessary), right-click on the orange RSS button (see below the E-Zine signup on the left) and then paste the URL into your RSS reader. Or click on the Google, My Yahoo, My MSN, or Bloglines button to add our feed to your personalized home page.
---
Would you like to post to this blog yourself?
It's easy, simply post to one of these pages, and your submission automatically becomes a part of our blog:
The Hydro Forums-- Run into problems? Ask for or offer advice here.

Brag Pics-- Strut your stuff! Send us a photo of your hydro garden and get into the slide show too!


BLOG ENTRIES START HERE:
Growing sunflowers in hp
I would like to grow sunflowers indoors in hp. Will one gallon pots be adequate? And the ebb and flow method?