Vertical Garden
Growing UP!
Have you ever thought about starting a vertical hydroponic garden?



One look at this picture will help you understand why vertical farming might just be the best growing option for your hydroponics farm. 
Vertical farms have the potential of providing lots of produce, even when you have limited available space. The term "vertical garden" means plants climb UP, instead of sprawling OUT.

Advantages Of Vertical Gardens

* Maximizes a minimal amount of growing space- Just provide with adequate nutrients, and you can grow a lot from just a few pots.
* Brings gardening to the urbanite- Many city folks do not even have a tiny yard available for gardening.  Gaining in popularity are community rooftop or terrace gardens, shared by multiple gardeners, which take up little space. With careful planning and the right hydroponic system, an amazing amount of crops can result. For this reason, many urbanites choose to grow vertical gardens on a co-op basis.

Vertical Farming Disadvantages

* It may be harder to provide adequate and even supplemental lighting for indoor vertical gardens.
* Some crops are not suited to vertical hydroponic farming (i.e. corn)
* Can Be More Expensive – Many pre-made vertical planting systems cost more than traditional pots. They are specially-designed for easy set-up, maintenance and operation, which can increase up front costs.

2 Vertical Garden Designs
* Use a conventional horizontally based hydroponic system but also provide a network of lattice, trellis or strings to train vining crops UP.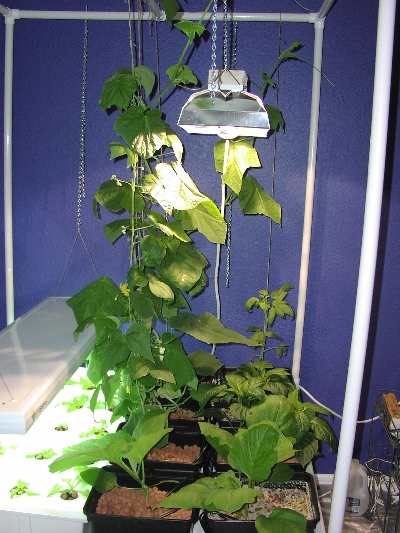 * Start with a vertical-based hydroponic system.
   We recommend and sell this unit:
#2 FarmTek Hydrocycle Vertical Aeroponic System: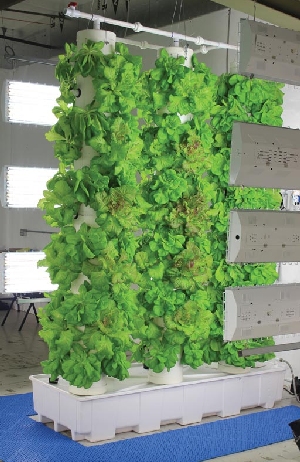 ---